Healthcare Associated Infections (HAIs) affect millions of patients around the world every year
HAIs cost healthcare systems billions each year.
Additional annual healthcare costs of

€7bn in Europe and €10bn in the US
BUT

:

There is

no effective, long-lasting coating

to prevent biofilm on medical devices on the market.
Modern healthcare employs many types of invasive and non-invasive medical devices to treat patients and to help them recover. Medical devices are behind more than 50% of all HAIs, the most common areas are the urinary tract, respiratory tract and the bloodstream. The risk of infection increases daily throughout the use of the medical device.
Example case: In-dwelling Foley catheter-associated urinary tract infections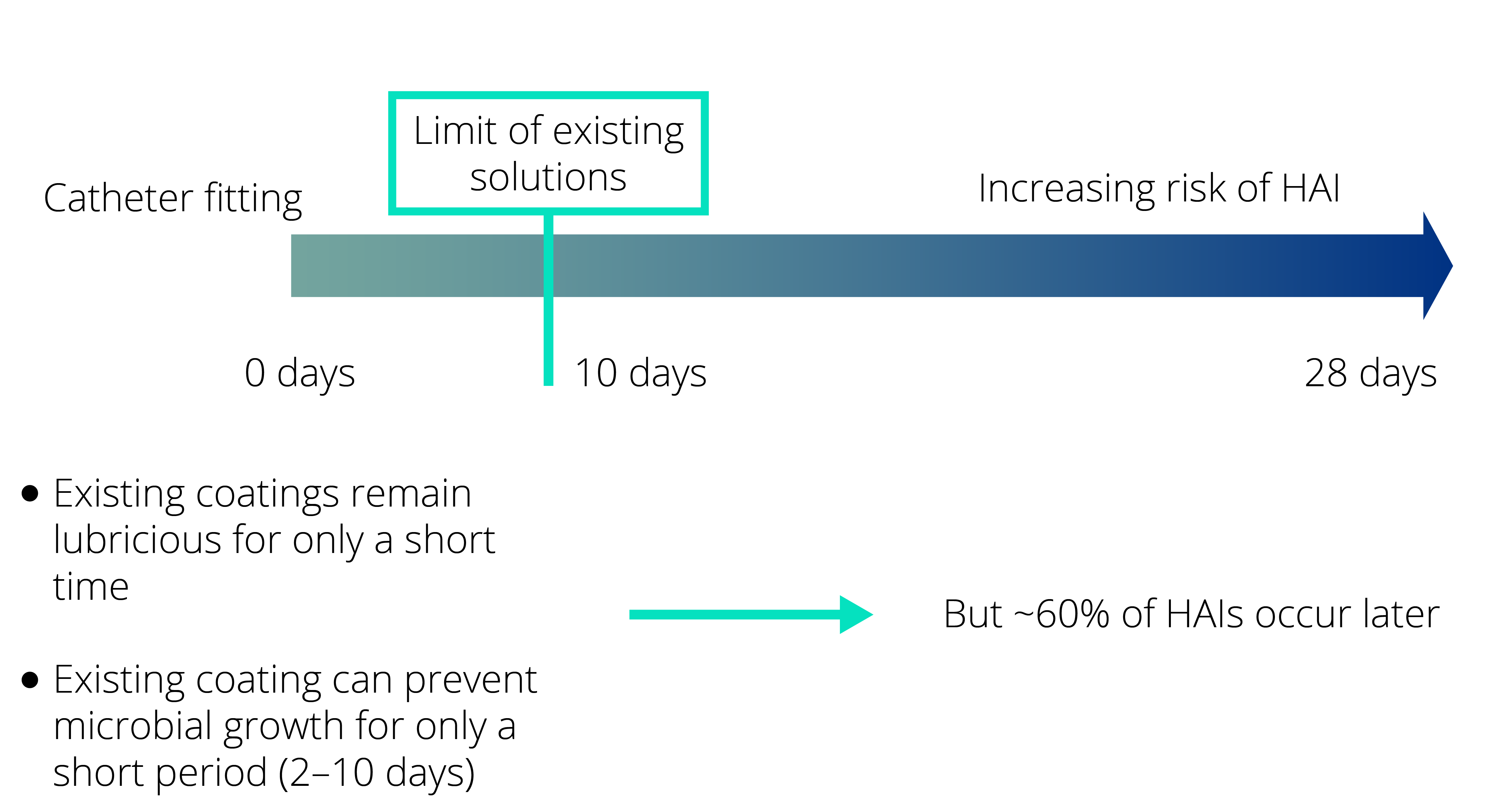 Picture (Ex. E. coli with text "E.coli causes more than 85 % of all urinary tract infections")
A urinary tract infection (UTI) is an infection involving any part of the urinary system, including urethra, bladder, ureters, and kidney. UTIs are the most common type of healthcare-associated infection reported to the National Healthcare Safety Network (NHSN). Among UTIs acquired in the hospital, approximately 75% are associated with a urinary catheter.
Ventilator-associated pneumonia (VAP) is a lung infection that develops in a person who is on a ventilator. A ventilator is a machine that is used to help a patient breathe by giving oxygen through a tube placed in a patient's mouth or nose, or through a hole in the front of the neck. An infection may occur if germs enter through the tube and get into the patient's lungs.
A central line (also known as a central venous catheter) is a catheter that is placed in a large vein in the neck, chest, or groin to give medication or fluids or to collect blood for medical tests. A central line-associated bloodstream infection (CLABSI) is a serious infection that occurs when germs (usually bacteria or viruses) enter the bloodstream through the central line.
A wound dressing is used to help a wound heal and to prevent further issues like infection or complications. Dressings are designed to be in direct contact with the wound, and are therefore often colonised by bacteria. Complications of infected wounds can vary in range from local to systemic. The most severe local complication of an infected wound is stalled wound healing, resulting in a non-healing wound. This often results in significant pain, discomfort and psychological detriment for the patient.
1 in 18 patients get an HAI
1 in 18 gets an infections in a hospital/healthcare setting
According to the European Centre for Disease Prevention and Control (ECDC), 1 in 18 patients in a European hospital acquire Healthcare-Associated Infections (HAIs). The root cause of most HAIs is colonisation and formation of microbial biofilms on the surface of medical devices that are in contact with patients, such as catheters, endotracheal tubes or ventilators. These biofilms are not accessible to antibiotics or the patient's immune system, and are reservoirs and entryways of bacteria to the organism causing life-threatening infections.
HAIs in the EU 
4 million cases each year
37,000 deaths
6% of hospitalised patients get HAI
Direct costs of EUR 7 billion per year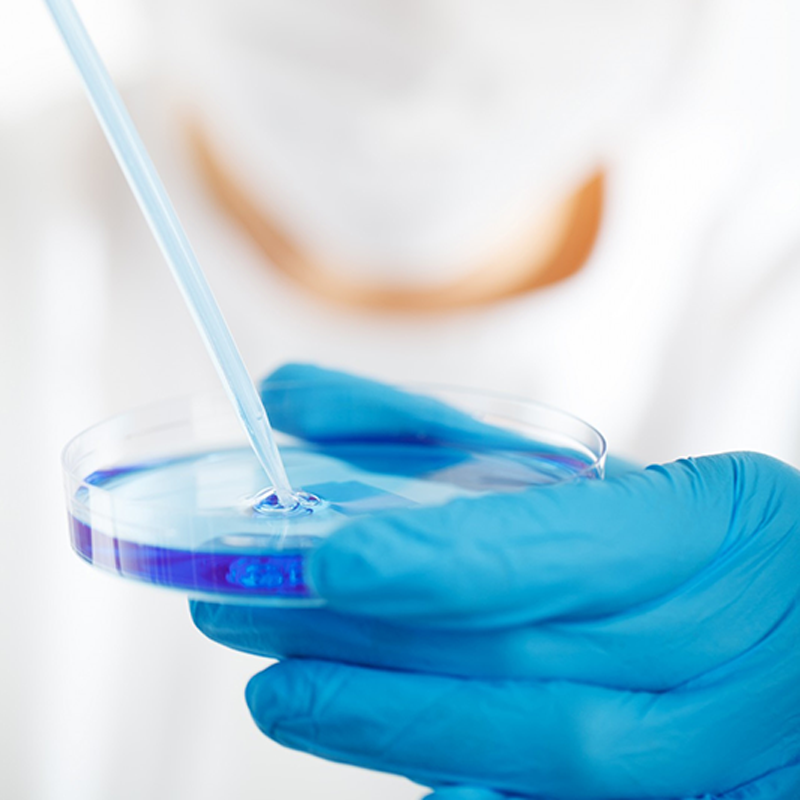 $17 000 000 000 per annum
HAIs cost healthcare systems billions each year
The European Centre for Disease Prevention and Control (ECDC) estimates the direct costs of HAIs to €7 billion per year. In the US the cost is estimated to $10 billons [1]. While the range is wide, HAIs are clearly expensive.
Antibiotics are used to treat patients with HAIs. The antibiotic treatment is very often inefficient when the surface of the medical device has been colonised due to the protection bacteria get from the biofilm they develop. In this case, the only solution is to remove the medical device leading to suffering for the patient and increased costs for the healthcare system.
References
70% of the bacteria that cause HAIs are resistant to at least one of the drugs
According to the World Health Organisation (WHO), approximately 70% of the bacteria that cause HAIs are resistant to at least one of the drugs most commonly used to treat them, and there is strong evidence that the attributable costs, length of stay and mortality are even greater when an infection is caused by a Multi-drug Resistant Organism. If no action is taken, ten million people around the world will be at risk of dying each year from multi-resistant bacteria by 2050 (source: WHO).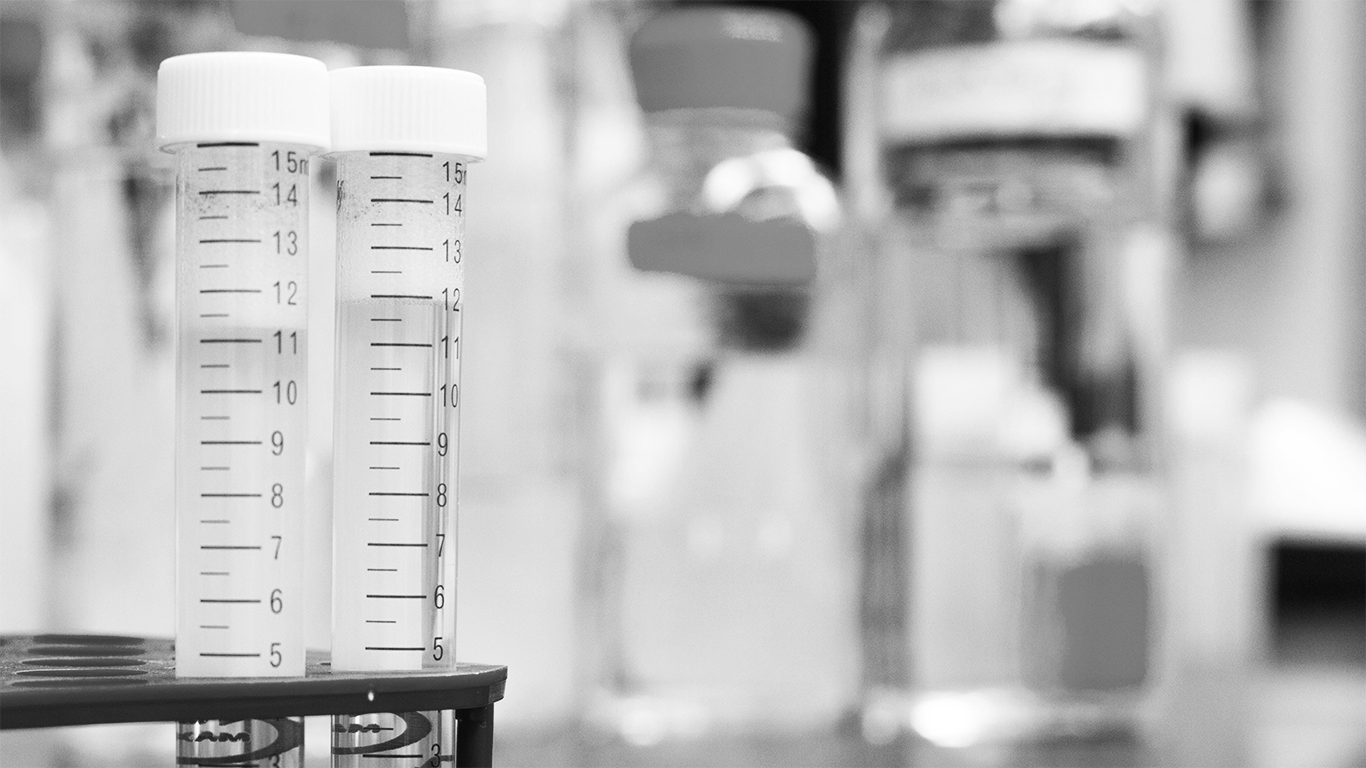 CytaCoat AB, Maria Aspmans gata 44A, 171 64 Solna SWEDEN | E-mail info@cytacoat.se
Design LIVE Reklambyrå